The Friends for Animals is in constant need of various sundries and consumables. Much of what we use is donated by our friends and animal-lovers from all over. The rest we purchase with funds donated by you. We depend solely on donations; we receive no help from City, County or State.
Here are just a few ways you can do your part.
Sign Up for a Monthly Pledge:

You can specify any amount that you'd like. A lot of people pledging a small amount will add up and help with our ever-increasing expenses.
We will send you monthly reminders. This is a big money-maker for us and money that we can count on every month.
Please call the Shelter to sign up, Tuesday, and Thursday through Saturday, noon-3:00 p.m., 817-326-3647 – or email us at [email protected]
T-Shirts: For a $10 donation, receive one of our very cute T-shirts, available at the Shelter.
Shelter Wish List:
Listed below are some items we need on a daily basis (* most needed items)

| Animal Needs | Office Needs | Everyday Items |
| --- | --- | --- |
| Pedigree Puppy Food, can or dry* | Postage Stamps* | Bleach (has to say "disinfectant)* |
| Iams Puppy Food, dry* | Envelopes (6½x3½) | Trash Bags (13 gal. & 40 gal.) |
| Pedigree Small Breed | | |
| Pedigree Dry or Can adult food | | |
| | | |
And/or, go to Amazon.com Wish List and pick Friends for Animals
to see what we have listed there too.  But please sign up for Amazon Smile, where the shelter will receive a percentage of the amount you spend on anything you buy through Amazon – with no extra cost to you!
Aluminum Can Recycling:
Bring your aluminum cans to the Shelter. There is a special container for them at the front of the building. This also has been a great money maker for us, so keep those cans coming!!!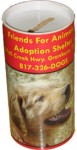 Money Bank Canisters:
"Feed" the money banks with your extra change (or dollars!!). The Banks are at various local businesses throughout the city, so keep your eyes open for them. If you are interested in allowing us to place a bank at your location, please email us at: [email protected]
Kroger Community Rewards Program:
Link your Kroger Plus Card to our Shelter and a portion of your sales will go to Friends for Animals. Go to KrogerCommunityRewards.com for more information and instructions, or pick up an informational Kroger flyer at the Shelter.
Honorarium Donations:
To let a special person in your life know how much they mean to you by giving a donation, in their name, to our no-kill shelter which helps so many abandoned animals. An acknowledgment will be sent to that person also.
In Memory Of Donations:
A caring way to memorialize a person or even a pet who has passed on. The family will be sent an acknowledgement.

Volunteers: (You must be at least 10 yrs. or older, & those under the age of 18 must be accompanied by parent or guardian.)
Here are a few things volunteers can help with:
Help bathe and groom our critters to look their best
Help socialize and handle our puppies
Just come to the Shelter and give lots of hugs, pets and love!
Help with our fundraisers
 Help with laundry
Please come by the Shelter and fill out our Volunteer Application!